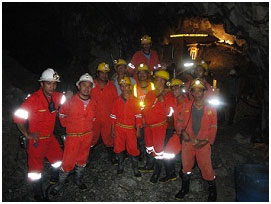 Apex Mining Co., Inc. (the Company) was incorporated and registered with the Philippine Securities and Exchange Commission on February 26, 1970 primarily to carry on the business of mining, milling, concentrating, converting, smelting, treating, preparing for market, manufacturing, buying, selling, exchanging and otherwise producing and dealing in gold, silver, copper, lead, zinc brass, iron, steel and all kinds of ores, metals and minerals. The Company listed its shares in the Philippine Stock Exchange on March 7, 1974 and attained the status of being a public company under the symbol APX.
In 1974, the Company commenced the operation of its Maco Gold Mine situated in the Municipalities of Maco and Mabini in Compostela Valley.
On October 10 2014, the Company acquired 100% ownership over Monte Oro Resources & Energy, Inc. (MORE) which has mining and non-mining business interests. MORE's mining interests in the Philippines consist of 100% ownership over Paracale Gold Ltd. which, in turn, fully owns Coral Resources Philippines, Inc. and 40% of Bulawan Mineral Resources Corporation, both located in the Municipality of Jose Panganiban, Camarines Norte. MORE has mining interests in other countries consisting of: (a) 100% shareholding in Minas de Oro Mongol LLC (a Mongolian company) which owns 51% equity in Erdenejas LLC, a joint venture company holding a mining license in Khar At Uul in Mongolia; (b) 90% shareholding in Monte Oro Mining Company Ltd., which is engaged in mining exploration in Sierra Leone, and in MORE Minerals SL which is engaged in artisinal mining and gold trading in Sierra Leone; and (c) 3.92% participation in National Prosperity Gold Production Group Ltd. which holds mining claims and license from the government of Myanmar to develop and operate the gold mine located at Moe di-Moe mi Region, Township, Mandalay Division, Myanmar, known as the Maudi Taung Gold Mine. MORE'S non-mining businesses consist of a 52% ownership over International Cleanvironment Systems, Inc., a company engaged in solid waste management, and a 30% participating interest in Service Contract No. 72 for natural gas in the Sampaguita gas field offshore northwest of Palawan in the West Philippine Sea.