The founder of APEX Mining Company (known as "AMCI Exploration and Mining Company" until 1978) was Dr. Fernando Muñiz, who began exploring and prospecting in the Masara area of Eastern Mindanao's Compostela Valley in 1970.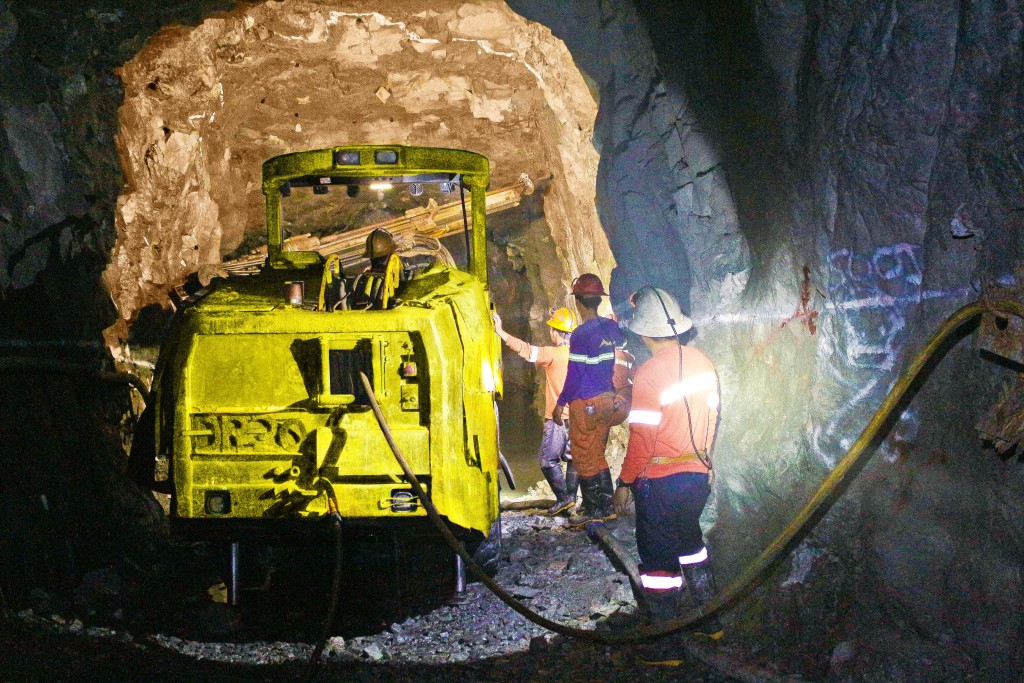 AMCI's first venture was copper mining but the low prices copper was fetching on the market in the early 1970s forced the move towards gold. AMCI posted its first profit in 1978 and was able to wipe out its debt by 1980 as gold prices continued to soar. AMCI entered the 1980s on a stable financial footing and began its programme of building housing, recreation and schooling facilities for mine site workers and their children.
In August 2005, an international mining company, Crew Gold Corporation, and its Philippine affiliate, Mapula Creek Gold Corporation, entered into an interim share purchase agreement with AMCI's majority stockholders for the sale and purchase of approximately 72.8% of the total issued and outstanding capital stock of AMCI. Over the following two months the agreements between AMCI and Viclode and AMCI and Mintrecorp were terminated and AMCI's days of sub-contracting to small mining organizations and earning income through rentals and royalties from these organizations terminated with them.
After the completion of a due diligence process, Crew and Mapula signed a definitive agreement in December 2005 with AMCI relating to the acquisition of 72.8% of the share capital.
Since then, Crew management has focused on commencing production from the existing plant facility. The agreed objectives in 2005 were initially to establish a 500 t/d working mine and to further establish a much bigger working mine after permitting issues had been resolved. It was also agreed that the Philippines-based management would work closely with the local communities to ensure that no social distress arose from the transformation of small-scale mining to a modern operation.
In the first quarter of 2006, under the new management, AMCI started its rehabilitation of the Masara plant. Other site infrastructures, like power upgrades, roads, accommodation, technical services and operations staff, office buildings for administration, workshops and stores were also upgraded.
ITOGON-SUYOC RESOURCES, INC.
Itogon-Suyoc Resources, Inc. (ISRI) is a 100%-owned subsidiary acquired by the Company in June 2015..  ISRI is the assignee-company in 2002 of the mining assets of the former Itogon-suyoc Mines, Inc. (ISMI), which consisted of the Sangilo Mine in Itogon and the Suyoc Mine in Makayan, both located in Benguet Province, and the Benit Claim in Labo, Camarines Norte.
Both Sangilo and Suyoc mines have long history of mining operations before and after the second world war. Post-war operations from 1951 to 1996 recorded combined production of 1,285,242 ounces of gold and 728,063 ounces of silver from 8.2 million tonnes of ore mined, which was quite remarkable considering the less efficient mining and processing methods then as compared to present practices.
Sangilo Mine
A two-stage development program for  the  Sangilo mine  is underway. The first stage commenced in October 2015 is for the construction of a 400-tonnes per day plant  capacity with interim phases to reach at 75 tonnes per day while underground development is being pushed through in fresh and old headings. Incidental production  to 2016 accounted for 1,547 ounces of gold valued at P  P92.1 million. The Second Stage plan is a separate plant at 1,500 tonnes per day which will bring the mine's total installed capacity  to 1,900 tonnes per day   at the estimated total investment cost of $68.8 million.
The mine is ISO 14001:2015 certified for environmental management system granted by TUV Rheinland in April 2017. The scope of the certification is for exploration, mining and mineral processing, valid until 2020.
Suyoc Mine
The plan for the Suyoc mine is for a 300 tonnes per day operation, to commence plant construction and mine development work after the reserve validation of the mine now in progress is completed.  Investment cost for the Suyoc mine is estimated to be $36.8 million.
The mine is ISO 14001:2015 certified for environmental management system granted by TUV Rheinland in April 2017.  The scope of the certification is for mining exploration and project development activities valid until 2020.