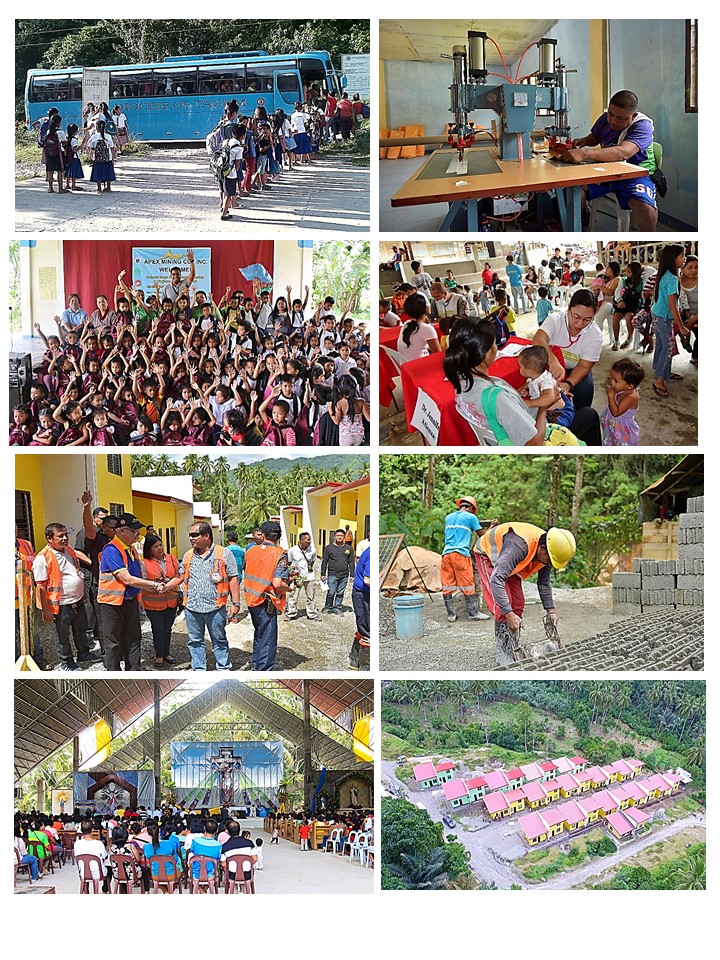 The corporate social responsibility (CSR) activities of the Company reflect its commitment to being a responsible miner and a catalyst to community development.
The Company maintains its relationship with stakeholders (public, government, and civic partners) through social programs and eco-friendly activities which aim to develop and improve the lives of the communities within its tenements and protect the environment.
SOCIAL DEVELOPMENT AND MANAGEMENT PROGRAM (SDMP)
The Company's social programs and activities in 2016 consisted of three major categories:  (1) Development of Host & Neighboring Communities (DHNC); (2) Information, Education and Communication (IEC) Campaigns; and (3) Development of Mining Technologies and Geosciences (DMTG).
In 2016, the Company spent P38 million for its various social and development programs geared towards socio-economic upliftment of the local communities.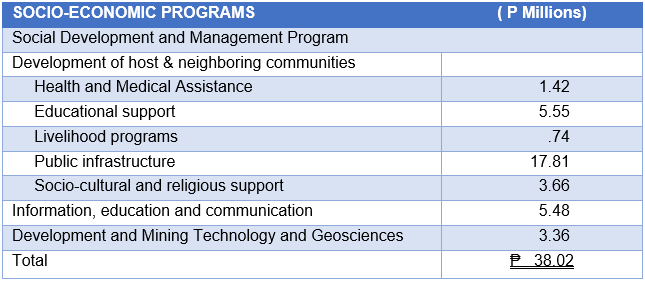 The Company's projects for the development of host and neighboring communities are summarized under the acronym HELPS, or simply Health & Medical Assistance, Educational Support, Livelihood Program, Public Infrastructure Programs and Socio-cultural and Religious Support.
HEALTH AND MEDICAL ASSISTANCE
The Company spent a total of PhP 1.42 Million in 2016 for its Health and medical assistance. Activities include the following, among others:
Support to Medical Personnel – In 2016, five (5) medical personnel (1 doctor, 2 nurses, and 2 midwives) from the host municipality were given financial support to assure the availability of medical services to the host and neighboring communities.
 Maintenance of Community Health Centers & Clinics – Two (2) health centers were supported during the year the Clinic in Barangay Masara and the Elizalde Infirmary Clinic in Barangay Elizalde.   There were 1,482 patients treated for free. Of this total, 106 patients were given free transport via  the Company ambulance for further medical treatment in Tagum City.  At the Elizalde Infirmary and Lying-in Clinic, 2,187 patients were treated in the same period. All patients at the Company's Clinic were given free medicines, vitamins and medical consultations.
Other Intervening Medical Assistance – The Company also provided financial support and assistance to the local barangay medical projects, namely nutrition month activities, medical outreach program and hospitalization assistance
EDUCATIONAL SUPPORT
The educational programs of  the Company is geared towards the improvement of the quality of education and skills enhancement of the local students, the youth and general constituencies of  the Maco mine's host and neighboring barangays. Assistance provided by the Company in 2016 in implementing its educational programs amounted to PhP 5.55 million.
Adopt-A-School Program. Fourteen (14) public schools composed of nine (9) elementary schools and five (5) secondary schools within the host communities were adopted. A total of PhP 871.2 thousand was spent for the mandatory obligations of these schools such as Brigada Eskwela, school publications and monthly honoraria to augment the salaries of locally paid teachers. In addition, school bags, supplies and hygiene kits were distributed to identified less fortunate grade schoolers in the municipalities of Maragusan and Pantukan.  The Company also provided financial support for school activities and improvement of school facilities.
The Company actively participated in the Bayanihan Para sa Karunungan Program of its seven (7) adopted elementary schools, in partnership with the Provincial Government of Compostela Valley.
Tertiary Scholarship & Educational Aid. The Company provided financial assistance amounting to P2.5 million to 73 college scholars from Tagum, Davao and Cebu cities in 2016.
Special Program for the Employment of Students (SPES). 24 local students were provided short-term employment by the Maco mine during the year. This program is jointly implemented by the Department of Labor and Employment (DOLE) and the Company, where 60% of the students' wages are shouldered by the Company and 40% charged to DOLE.
School Transportation. The Company incurred a total of P 1.95 million as rentals in 2016 for five shuttle buses to fetch and ferry students from pooling centers to their respective schools.
LIVELIHOOD PROGRAMS
One of the Company's advocacies is to provide alternative livelihood for the development of empowered and self-reliant communities. The Company wants its host and neighboring communities not to be totally dependent on the employment generated from the aco mining operations. The livelihood programs help promote unity and interrelation among members of the communities, by organizing themselves into an association or cooperative that could generate self-employment and income from identified Income Generating Projects (IGP).
Total assistance provided by the Company in executing the livelihood programs for this year amounted to PhP 737 thousand.
Institutional Assistance & Organizational / Capacity Building. Nine community-based organizations were provided technical trainings and capacity- building seminars sponsored by the Company. The beneficiaries were LIRUSWA, MALFA, NEBUFA, TASWA, BESWA, BIRUSWA, BAMAHOWA, TERUSWA, and COBAWA (Community-based Workers Association) Groups.
The Apex Industrial Sewer Producer Cooperative (AISPC) was recognized as Best Livelihood Project for IP Women's Group during the National Community Relations Officers Conference in Baguio City.
Other livelihood contributions. The Company also donated starter kits and initial supplies and machineries amounting P547.6 thousand to the following organizations: Apex Regular Dependents Association (AREDA) for meat processing project, Masara Lines Farmers Association (MALFA) for ventilation tube production, New Barili Upland Farmers Association (NEBUFA) for an abaca stripping machine, Teresa Upland Farmers Association (TUFA) for cacao production and vermiculture, Lim-ao Rural Skilled Workers Association (LIRUSWA) for cacao/ agricultural production, and Biucadan Rural Skilled Workers Association for pebbles production,.
PUBLIC INFRASTRUCTURES
The total expenditures under the Public Infrastructure program for this year amounted to PhP 17.8 million.
Resettlement Site: Acquisition, development and maintenance. For this year, the Company  spent  PhP 13.2 million for the construction of housing units at Elizalde Relocation Site in Barangay Elizalde, Maco.  Out of 90 planned duplex units, 20 units have already been completed.
Construction/ Repair/ Maintenance of Public Infrastructures. Various public infrastructure projects were implemented by the Company in 2016, among them were: basketball court lightings in Masara; road maintenance from Barangay Masara – Tagbaros; covered court improvement in Barangay Golden Valley; covered court improvement in Barangay Masara; road rehabilitation in Barangay New Barili; electrical installation of vent tube production area in Brgy. Tagbaros; electrical installation off Foursquare Gospel Church in Brgy. Teresa; support to construction of Immaculate Conception Parish of Mary in Brgy. Elizalde; tribal hall improvement in Barangay New Leyte; road upgrading project in Barangay New Leyte; installation of perimeter fence in Barangay Teresa; construction of PNP-Detachment in Brgy. Masara; street lightings in Brgy. Masara; road upgrading project (Road Section) in Brgy. Elizalde; provision of materials for Teresa ES, Roman Catholic Chapel; and provision of materials in Barangay Teresa Hall.  Moreover, 98 individuals were engaged by the company for a temporary employment through the quarterly conduct of roadside brushing.
SOCIO-CULTURAL AND RELIGIOUS SUPPORT
The Company also cares about, and respects, the existing socio-cultural religious values and other related activities which promote social cohesion, awareness and community pride from within the host and neighboring communities.
Sponsorship, financial assistance and donations were extended to various barangays, municipalities, and the Compostela Valley provincial government, through free transportation services, assistance to day-care workers, local special events and assemblies, barangay hall improvement and renovation, anniversaries, town fiestas, nutrition programs, bloodletting, church activities, improvement of water reservoir, water system project, IP activities, construction of covered courts, and support to physically challenged persons and the elderlies,  among others.
The Company also supported the local Peacekeepers through financial assistance during the year-end evaluation activity of 71st IB, 71ID, PA, Pro-Environment Peace and Development Activities, Compostela Valley PPO National Women's Month Celebration and AFP in Mawab, ComVal.   The Maco mine also provided supplies and construction materials for the improvement of the camps/detachments of the AFP in Brgy. Tuboran, Mawab and in Paloc, Maragusan.
The total expenditures under the Socio-Cultural and Religious Support program for this year was PhP 3.66 million.
INFORMATION, EDUCATION AND COMMUNICATION (IEC) Program
The Information, Education and Communication Program aims to institutionalize greater public awareness on responsible mineral development and the promotion of geosciences and related technologies. In the execution of its IEC activities, the Company incurred PhP 5.4 million expenses during the year.
 Various IEC activities were implemented where a total of 2,663 participants attended the lectures and seminars conducted for free to reach as many barangays as possible.
Student Summer Training Program (SSTP) / On the Job Training (OJT). The Company incurred a total cost of P2.4 million in accommodating 98 OJTs and SSTPs, and 12 mining-related courses scholars during the year.  Two-day training sessions for community organizing and project development formulation were also conducted.
 Symposia, Fora, and Participation in Mining Activities. The Company sponsored and supported activities related to the promotion of mining and geosciences, which include, among others, the following: (1) Mining and Geology Conference (The Hunt for Ore) held in Davao City last January 25-26, 2016; (2) Mining Symposium: Mineral Industry's Development held at USEP Davao City last February 12, 2016; (3) 2-Day Live-out Seminar for SDMP/ CDP Implementors in Region XI held at Pinnacle Hotel, Davao City last March 9-10, 2016; (4) Sponsorship to the Mining Convention 2016 in Legaspi City on May 6, 2016; (5) Sponsorship for Mining Engineering Review at USEP Davao on June 15, 2016;  (6) Sponsorship for the USEP Geology Review on June 27, 2016; (7) Sponsorship to the 3rd IIEE Northern Davao Congress Regional Conference – August 18-20, 2016; (8) Sponsorship to the 22nd Mining Symposium: Mindanao Association of Mining Engineers (MAEM) – September 22-23, 2016; (9) Support to National Convention of the Society of Filipino Foresters Incorporated – September 19-21, 2016; (10) Preparation to PMSEA Activities; (11) Participation to PMSEA Activities last November 15-21, 2016 in Baguio City; (12) 4th National Community Relations Officers Conference last November 16, 2016 in Baguio City; (13) Participation to GeoSea 2016 Conference last October 21, 2016; and (14) Participation to Annual Geology Conference last December 13-14, 2016 in Manila.
Baseline Information Gathering for Mining Related Activities. The Company financially supported the baseline information studies conducted by different public sectors in the entire Company operations, namely: (1) Field study for SDMP best practices in the host communities conducted by Department of Environment and Natural Resources (DENR) and Mines and Geosciences Bureau Central (MGB) Offices for the Philippine Poverty Extractive and Initiative (PPEI) Program of Department of Interior and Local Government (DILG); (2) Survey for the K-12 Technical Courses in the adopted schools of Apex; (3) Microbial analysis of the sources of community potable water in Barangay Teresa. Assistance included costs of laboratory analyses and logistics during water collection activities; (4) Survey and area delineation at Parcel 5 (PJAC) conducted by MGB. The Company extended financial support to Barangay Tanods and Indigenous People (IP) members who assisted MGB personnel; (5) Study for the Maco  mining operation conducted by USEP Engineering Students; and (6) Baseline information gathering of  the Company's mining activities.
Total Development of Mining Technology and Geosciences (DMTG) assistance spent by the Company amounted to P 3.4 million in 2016.
ENVIRONMENTAL PROTECTION AND PRESERVATION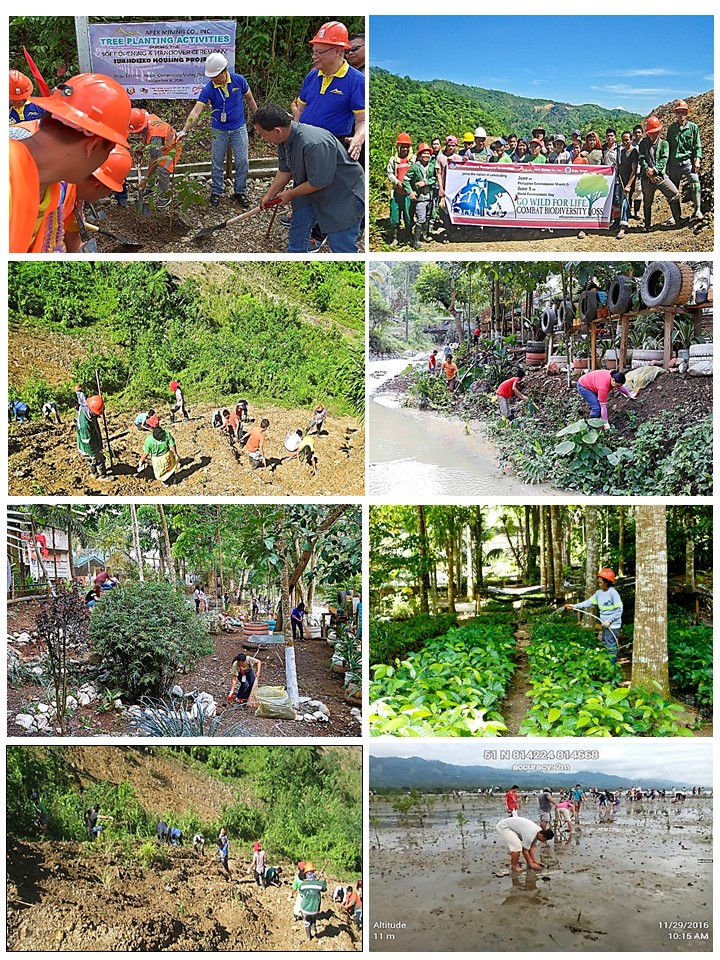 As a responsible miner, the Company takes care of the environment and the surroundings where it operates.  Preservation of natural resources is foremost in the Company's advocacies. On top of fully complying with mandated rules and regulations, the Company takes extra steps more to pursue protection and rehabilitation of the environment.
In 2016, a total of PhP 85.4 million was spent in the implementation of various EPEP activities of the Company.  These activities are continuously being implemented to mitigate the negative effect, if any, of mining operations to the environment.  Below is the summary of the activities with corresponding costs.


Tree Planting / Reforestation
The Company operates and maintains nurseries of various tree seedlings.  During the year, 180,876 assorted seedlings were stocked at the mangrove and central nurseries, while a total of 233,907 assorted seedlings were consequently produced at the same nurseries. Among the seedlings were Falcata, Mangium, Mahogany, Rubber, Durian, Bamboo, Narra, African tulips, and Mangrove species.  A clonal garden for rubber demo-farm and African tulip cuttings at Central nursery was established.
The Company's Forestry Group regularly conducts tree planting, protection and maintenance activities to enhance and improve the disturbed areas. Assorted shrubs and grasses were planted and wattling structures were constructed for slope stabilization and erosion control. For low density areas, enrichment planting was also conducted.  For 2016, a total of 28,596 seedlings were planted covering an area of 17.21 has.
At Bucana, Maco, Compostela Valley, a joint mangrove tree planting project between the Company, DENR-Maco and LGU-Maco was conducted where  1,500 mangrove seedlings were planted covering an area of 0.15 hectare.
The Company participated in the 2016 National Clean-Up Day with the theme "Bayan Ko, Linis Ko" where 570 acacia mangium seedlings were planted in St. Francis area.
Continuous protection and maintenance of out-planted seedlings (total of 90,065 seedlings covering an area of 83.17 has. during 2016) within the Company's tenements was  done to assure the growth of the new plants. Replanting was also conducted in other locations with low surviving tree species where the Company replanted 21,720 assorted seedlings covering an area of 20.49 has.   The tree planting maintenance and protection of the adopted mangrove project at Pantukan and Bucana, Maco, Compostela Valley area was similarly sustained.
The Company also donated 55,039 assorted seedlings to various LGU's, the DENR, civic organizations, barangay councils, schools and private individuals for tree planting purposes to cover  an  approximate area of 110.08 has.
 Surface Maintenance
The Company continued to do maintenance work within and outside its minesite areas. These included the: desilting of creeks, river channels, sumps, and ponds; road maintenance within mine site;  maintenance of drainage canals;  construction of earth sump for storm drain;  regular cleaning of oil and water separator (OWS) facility; and the regular cleaning and maintenance of used oil storage facility.
Solid Waste Management
The Company, as a public service, provides free collection and hauling of domestic wastes from the Maco minesite and four host barangays going to The Company's material recovery facility which was constructed to facilitate domestic waste management and institute proper waste segregation.
In compliance to RA 9003 (Ecological Solid Waste Management Act) the Company also conducts 2-hour housekeeping activities every Saturday in the minesite work areas.  Likewise, all metal scraps, chips and cuttings generated from various operations are being collected and transported to the scrap yard for proper disposal.
Water Resources and Pollution Management
 Tailings Pond Management. The condition of the tailings pond is regularly being monitored by the Company as part of good environmental management. This includes regular desilting at the Lumanggang creek, maintenance of siphoning pipe and tailings pipe lines, and maintenance of drainage canal and spillway along the tailings pond. The construction of Phase 3A dam raising to elevation 650m is currently on-going, as well as the construction of Lumanggang Clearwater Diversion. The Company also conducts regular detoxification at Toe drain discharge and inside the tailings pond using Hydrogen peroxide and SMBS.
To conform to the directive of the DENR, the Company engaged an independent technical consultant to assess the stability of  the Maco mine's tailings impoundment facility. This is regularly done as part of the Company's proactive prevention of possible leaks.
 River Clean-up. During the celebration of the Philippine Environment Month & World Environment Day with the theme "Go Wild For Life, Combat Biodiversity Loss" held in June  2016,  the Company, together with Barangay Teresa officials, conducted river clean-up on the adopted water body of Buenatigbao River situated in Maco, Compostela Valley. A total of 6,000 kilograms of solid wastes were collected.   In the 2016 National Clean-Up Day held in September, 2016 with the theme "Bayan Ko, Linis Ko", the CompanyI and the barangay jointly participated in the river clean-up at Malumon and Buenatigbao Rivers collecting a total of 1,232 kilograms of solid wastes..
Monitoring of effluent and piezometer. The Company conducts regular monitoring of effluents from the different established sampling station points of the Maco mine to ensure that DENR standards are complied with. Piezometer monitoring is also continuously being done at the tailings pond for data gathering, information and reference purposes. All safety measures and maintenance works are undertaken to ensure the smooth and safe operations of tailings conveyance to disposal area.
Monitoring of chemical waste. Chemical wastes at the assay Laboratory are disposed properly. Acid and alkali wastes  are diluted with water to reduced acidity and alkalinity,  and treated with sodium hydroxide at the sump box before disposal to sewerage. Cupels and slags  are contained in drums and brought to a designated area suitable for disposal. Regular analysis of water and effluents samples from the tailings pond are conducted.
Handling of Used and Waste Oil. The Company maintains proper handling of used and waste oil for disposal to third parties with valid permits from the Environment Management Bureau – DENR.  For this year, a total of 51,400 liters of used oil and 43 drums of waste water with oil were disposed via the DENR accredited transporters. All used oil-water separators installed in the different discharge areas are regularly monitored and inspected to ensure no oil spillage will affect the river system.
 As part of the Company's Personal Protective Equipment (PPE) policy, the use of earmuffs and earplugs is continuously being enforced among workers assigned in areas where there is high level of noise.
Air Quality. The Company maintains and provides good ventilation system in the underground to ensure adequate air flow within the production areas. Respirator apparatus are available ready to be used by employees whenever necessary.
Ambient air quality within the minesite is monitored using the PM 10 device which measures impact of aggregate emissions to nearby surroundings. In 2016, tests showed that the particulate matter concentration is within the DENR standards. To suppress dust particles caused by moving vehicles on the roads within the camp, the  the Maco mine conducts daily road spraying using water tankers.
A Lead fume scrubber was installed at the Assay Laboratory to mitigate the impact of lead emission to the nearby surrounding.